Introduction
In today's digital age, a strong online presence is crucial for individuals and businesses alike. Enter Wix – a powerful and user-friendly platform that empowers you to create stunning websites without the need for coding expertise. In this blog post, we'll take you on a journey through the world of Wix, exploring its features, benefits, and the creative possibilities it offers.
1. Introduction to Wix
Wix, founded in 2006, has revolutionized website creation by providing a user-friendly platform that caters to beginners and experts alike. It offers an array of templates that serve as a canvas for your creative ideas. With Wix, you can craft professional-looking websites without being held back by technical limitations.
2. The Power of Drag-and-Drop
The cornerstone of Wix's simplicity lies in its drag-and-drop interface. This feature allows you to effortlessly add and rearrange elements on your website. From text boxes to images, videos, buttons, and forms – creating a visually appealing site is just a matter of a few clicks.
3. Crafting Your Unique Space
Wix's extensive library of customizable templates covers a wide range of industries and styles. Whether you're an artist, a blogger, a small business owner, or anyone in between, you'll find a template that resonates with your vision. These templates are designed to serve as starting points, providing you with the foundation to build your unique online space.
4. E-Commerce Made Effortless
For entrepreneurs looking to venture into e-commerce, Wix offers an intuitive solution. With features like product galleries, secure checkout pages, and inventory management, you can seamlessly set up an online store and start selling your products or services.
5. Optimized for All Devices
In a mobile-first world, Wix ensures your website looks and functions flawlessly across devices. Responsive design is built into every template, guaranteeing a consistent user experience whether visitors are on desktops, tablets, or smartphones.
6. A Closer Look at SEO
Wix provides tools to enhance your site's search engine visibility. While historically there were some limitations, recent updates have significantly improved Wix's SEO capabilities. You can customize meta tags, headers, and descriptions to help your website rank higher in search results.
7. Flexibility and Customization
While Wix simplifies the website-building process, it also offers advanced users the option to access and modify their site's code. This means you can enjoy both the ease of use and the ability to fine-tune elements according to your preferences.
8. Wix for Every Skill Level
Whether you're a beginner or a seasoned web developer, Wix caters to your needs. Its user-friendly interface is perfect for those new to website creation, while its customization options satisfy more experienced users.
9. Unleash Your Creativity
Wix isn't just a platform – it's a creative playground. From personalized blogs to immersive portfolios, your imagination is the only limit. Experiment with layouts, colors, fonts, and interactive elements to bring your vision to life.
10. Conclusion: Your Digital Journey Begins
With Wix, the process of building a website becomes an exciting journey rather than a daunting task. Its blend of simplicity and customization makes it a powerful tool for individuals and businesses to establish a strong online presence.
In Conclusion
Wix's impact on the website-building landscape is undeniable. It empowers users to create websites that are not only visually stunning but also fully functional. Whether you're an aspiring blogger, a passionate artist, or a business owner aiming to expand your reach, Wix provides the tools you need to succeed in the digital world. So, why wait? Start your digital journey with Wix today and unlock endless possibilities for your online presence.If you have any questions or concerns, please contact Airo Global Software through the email given below.
E-mail id: [email protected]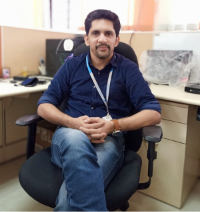 Author - Johnson Augustine
Chief Technical Director and Programmer
Founder: Airo Global Software Inc
LinkedIn Profile: www.linkedin.com/in/johnsontaugustine/