In the ever-evolving landscape of online retail, having the right e-commerce platform can make all the difference. Enter PrestaShop – an open-source e-commerce solution that has been empowering businesses of all sizes to establish, customize, and manage their online stores with remarkable ease. In this comprehensive overview, we'll delve into the world of PrestaShop, exploring its features, benefits, and why it stands out in the competitive e-commerce arena.
Understanding PrestaShop: A Glimpse Into its Core
PrestaShop isn't just another e-commerce platform; it's a dynamic toolkit that puts the power of online entrepreneurship into your hands. With its open-source nature, PrestaShop offers unparalleled flexibility, allowing you to craft a tailored online store that aligns perfectly with your brand identity and objectives.
Key Features that Set PrestaShop Apart
1. User-Friendly Interface:
Whether you're a tech-savvy entrepreneur or just dipping your toes into e-commerce waters, PrestaShop's intuitive admin panel ensures a smooth learning curve. Manage products, track inventory, and process orders effortlessly.
2. Customization Galore:
PrestaShop offers an array of themes and templates, enabling you to create a visually stunning online store that resonates with your target audience. For those with coding prowess, the platform opens doors to developing custom modules, taking your store's functionality to new heights.
3. International Reach:
Operating in a global market? PrestaShop supports multiple languages, currencies, and localized tax regulations, making international expansion a breeze.
4. SEO-Ready:
Stand out in the crowded online world with PrestaShop's built-in SEO tools. Optimize your store's visibility on search engines, ensuring potential customers find your products effortlessly.
5. Marketing Magic:
From integrated marketing tools to social media integrations, PrestaShop empowers you to reach your audience where they are. Seamlessly promote your products and engage with your customers.
6. Security & Updates:
Security is paramount in e-commerce, and PrestaShop takes it seriously. Regular updates and patches keep your store secure, instilling trust in your customers and safeguarding your business.
The PrestaShop Experience: Who Can Benefit?
Whether you're a budding entrepreneur aiming to launch your first online store or an established business seeking a robust e-commerce solution, PrestaShop caters to all. Its scalability ensures that as your business grows, your online presence can seamlessly adapt to the changing demands.
How to Get Started with PrestaShop
1. Download and Installation:
Visit the official PrestaShop website, download the platform, and follow the straightforward installation instructions.
2. Theme Selection:
Choose a theme that aligns with your brand and customize it to match your vision.
3. Product Setup:
Add your products, organize them into categories, and provide comprehensive product details.
4. Configuring Payments and Shipping:
Set up payment gateways and shipping options to provide a seamless shopping experience for your customers.
5. Launch and Promotion:
With your store ready, launch it to the world and leverage PrestaShop's marketing tools to attract your target audience.
Conclusion: Empower Your E-Commerce Journey with PrestaShop
In a digital age where online shopping is more relevant than ever, PrestaShop stands as a versatile and powerful tool for e-commerce success. With its customizable features, user-friendly interface, and robust security, PrestaShop empowers businesses to create online stores that captivate, convert, and grow.
Don't miss out on the opportunity to explore PrestaShop's potential for your business. Whether you're a seasoned online retailer or a newcomer, PrestaShop's arsenal of tools is waiting to elevate your e-commerce venture to new heights. Experience the PrestaShop difference and embark on a journey of online retail excellence.If you have any questions or concerns, please contact Airo Global Software through the email given below.
E-mail id: [email protected]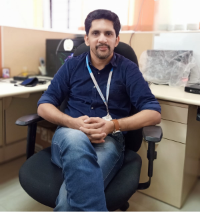 Author - Johnson Augustine
Chief Technical Director and Programmer
Founder: Airo Global Software Inc
LinkedIn Profile: www.linkedin.com/in/johnsontaugustine/