Introduction:
In today's fast-paced business world, seamless integration of financial data is vital for efficient operations. QuickBooks, a renowned accounting software, offers powerful APIs that allow you to integrate it with your system, streamlining your financial management processes. In this step-by-step guide, we'll walk you through the process of QuickBooks integration, enabling you to harness its full potential and revolutionize the way you manage your finances. Let's dive in!
Step 1: Create a QuickBooks Developer Account
To begin the integration process, you need a QuickBooks developer account. Visit the QuickBooks Developer website and sign up for an account. Once registered, create a new app in your developer account. Provide essential details such as the app name, description, and integration type (e.g., desktop, web, or mobile).
Step 2: Set Up OAuth 2.0 Authorization
OAuth 2.0 is the authentication mechanism used to access QuickBooks data securely. In your developer account, navigate to the "Keys & OAuth" section and generate your OAuth 2.0 credentials. Specify the redirect URI, and note down the "Client ID" and "Client Secret," which you'll use later to obtain access tokens.
Step 3: Implement OAuth 2.0 Authentication in Your System
To integrate with QuickBooks, you'll need to implement the OAuth 2.0 authentication flow in your system. This involves redirecting users to the QuickBooks authorization URL to grant permissions to your app. Upon authorization, QuickBooks will redirect the user back to your system with an authorization code. Use this code to obtain access and refresh tokens via a POST request to the QuickBooks OAuth 2.0 token endpoint.
Step 4: Connect Your System to QuickBooks API
With the access token acquired, you're ready to interact with the QuickBooks API. Familiarize yourself with the API documentation, which provides details on endpoints and request/response structures. The API enables you to retrieve data from QuickBooks, create and update entities like customers, invoices, and payments, and more.
Step 5: Sync Data and Manage Finances
Integrate your system's data with QuickBooks to ensure accurate and up-to-date financial records. Create functions to sync relevant information such as invoices, expenses, and transactions between your system and QuickBooks. This seamless data transfer streamlines your financial management and minimizes manual efforts.
Step 6: Test and Deploy
Before deploying the integration to your production environment, conduct thorough testing. Create a test company within QuickBooks to avoid affecting live data. Ensure that data synchronization, authorization, and other functionalities work flawlessly. Once testing is complete, deploy the integration to your production system and monitor its performance.
Step 7: Maintain and Update
Maintaining your QuickBooks integration is crucial for its continued success. Stay updated with QuickBooks API changes and version updates. Regularly monitor logs and user feedback to address any issues promptly. Proactive maintenance ensures a smooth experience for both you and your users.
Conclusion:
Congratulations! You've successfully integrated QuickBooks with your system, streamlining your financial management and boosting overall efficiency. By following this step-by-step guide, you've empowered your business with accurate data, reduced manual tasks, and improved decision-making. Remember to stay up-to-date with QuickBooks API changes and explore additional features to leverage the full potential of your integration.
Keep innovating, and let QuickBooks be your trusted partner in financial success!If you have any questions or concerns, please contact Airo Global Software through the email given below.
E-mail id: [email protected]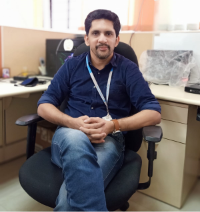 Author - Johnson Augustine
Chief Technical Director and Programmer
Founder: Airo Global Software Inc
LinkedIn Profile: www.linkedin.com/in/johnsontaugustine/