In today's fast-paced world, the demand for efficient task management, project planning, and seamless collaboration tools has never been greater. Enter ClickUp, a versatile and powerful platform that promises to be your one-stop solution for all things productivity. In this comprehensive review, we'll take an in-depth look at ClickUp's features, customization options, and how it can transform the way you work.
The Power of ClickUp
Task Management
ClickUp simplifies task management by providing a centralized hub for creating, assigning, and tracking tasks. Its intuitive interface lets you set due dates, priorities, and assignees, ensuring that nothing falls through the cracks.
Project Management
Managing projects has never been easier. ClickUp offers a robust project planning toolkit that allows you to create projects, set goals, and monitor progress with precision.
Seamless Collaboration
Collaboration is key, and ClickUp excels in this department. Teams can communicate effortlessly within the platform through comments, attachments, and mentions. Say goodbye to scattered communication tools.
Tailored to Your Needs
Customization
One size doesn't fit all, and ClickUp understands that. The platform offers a high level of customization, allowing you to tailor your workspace with various views, templates, and custom fields. Adapt it to your unique workflow.
Analyze and Optimize
Analytics and Reporting
ClickUp isn't just about doing tasks; it's about doing them better. With its robust analytics and reporting features, you gain insights into team performance, task completion rates, and other crucial metrics. Optimize your processes and increase efficiency.
Integrations Galore
Seamless Integration
ClickUp plays well with others. It seamlessly integrates with a wide range of third-party tools and services like Google Drive, Slack, Trello, and more. Connect your existing workflows effortlessly.
Conclusion
In a world where productivity is paramount, ClickUp stands out as a game-changer. With its comprehensive suite of features, high degree of customization, and seamless integration capabilities, it's a tool that can adapt to your unique needs. Say hello to streamlined task and project management, improved collaboration, and data-driven optimization.
Make your work smarter, not harder. Embrace ClickUp, and watch your productivity soar.
Don't wait; start your ClickUp journey today.
Ready to experience ClickUp's power firsthand?
Stay tuned to our blog for more productivity tips, reviews, and tech insights.If you have any questions or concerns, please contact Airo Global Software through the email given below.
E-mail id: [email protected]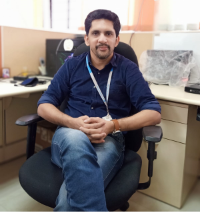 Author - Johnson Augustine
Chief Technical Director and Programmer
Founder: Airo Global Software Inc
LinkedIn Profile: www.linkedin.com/in/johnsontaugustine/