Introduction:
In today's fast-paced world, logistics companies are constantly striving to optimize their operations, improve efficiency, and enhance customer experience. One key factor that plays a crucial role in achieving these goals is the effective use of technology. In this blog post, we will explore how AIRO Global Software, a renowned web and mobile app development company, is revolutionizing the logistics industry with its cutting-edge software solutions.
Introducing AIRO Global Software:
AIRO Global Software is a leading software development company specializing in web and mobile app development. With a strong focus on innovation and advanced technologies, AIRO Global Software has gained recognition for its expertise in delivering custom software solutions to businesses across various industries. Their team of experienced developers and designers are dedicated to creating powerful, user-friendly, and scalable software applications.
Addressing the Challenges of the Logistics Industry:
The logistics industry faces several challenges, such as complex supply chains, inventory management, real-time tracking, and last-mile delivery optimization. AIRO Global Software understands these challenges and develops tailored software solutions to streamline logistics operations. Their expertise lies in creating robust systems that facilitate efficient order management, warehouse management, transportation tracking, and route optimization.
Web Development Solutions for Logistics:
AIRO Global Software's web development services provide logistics companies with highly functional and visually appealing websites. These websites serve as a powerful platform to showcase services, manage orders, and provide real-time shipment tracking to customers. AIRO Global Software ensures seamless integration of features like online payments, customer support, and inventory management systems, enabling logistics companies to enhance their online presence and customer engagement.
Mobile App Development Solutions for Logistics:
With the growing popularity of mobile devices, having a mobile app is imperative for logistics companies to stay competitive. AIRO Global Software specializes in developing feature-rich mobile applications that empower logistics businesses with on-the-go functionality. These apps offer real-time tracking, push notifications, digital documentation, and instant communication channels, making it easier for logistics companies to manage their operations efficiently and provide a superior customer experience.
Benefits of AIRO Global Software Solutions:
By partnering with AIRO Global Software, logistics companies can experience a range of benefits, including:
Enhanced operational efficiency through automated processes and real-time data analysis. Improved customer satisfaction with seamless order tracking and effective communication. Increased visibility and control over supply chain management. Cost savings through optimized route planning and resource allocation. Scalable solutions that can adapt to changing business needs.
Conclusion:
AIRO Global Software is transforming the logistics industry by providing innovative web and mobile app development solutions. Their expertise in creating custom software applications tailored to the unique requirements of logistics companies enables businesses to streamline their operations, improve customer experience, and gain a competitive edge in the market. Embracing AIRO Global Software's solutions will undoubtedly pave the way for a more efficient and successful logistics journey.If you have any questions or concerns, please contact Airo Global Software through the email given below.
E-mail id: [email protected]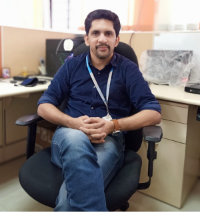 Author - Johnson Augustine
Chief Technical Director and Programmer
Founder: Airo Global Software Inc
LinkedIn Profile: www.linkedin.com/in/johnsontaugustine/