Introduction:
In the fast-paced world of business, having a seamless and efficient integration system is crucial for success. ERPNext, an open-source Enterprise Resource Planning (ERP) software, emerges as a powerful solution for managing and streamlining various business operations under one unified platform. In this blog post, we'll delve into the core aspects of ERPNext and explore how it can be tailored to meet your business's unique needs, its integration capabilities, and the myriad benefits it offers to enhance productivity and decision-making.
1. The Power of ERPNext for Your Business:
ERPNext is an all-in-one business management solution that integrates various departments and functions within your organization. From managing sales and inventory to handling accounting and manufacturing processes, ERPNext consolidates all crucial aspects of your business, ensuring smooth data flow and real-time collaboration. This centralization eliminates data silos, reduces redundancy, and enhances overall operational efficiency.
The software's modular structure allows you to tailor it to your business needs, ensuring that you only use the features relevant to your operations. This flexibility is particularly valuable for companies of all sizes, from small startups to large enterprises, as it enables them to adapt ERPNext to their specific requirements.
2. Tailoring ERPNext to Your Unique Needs:
One of the standout features of ERPNext is its customizability. The software is built on a flexible framework that allows businesses to create custom forms, fields, and workflows to suit their unique processes. Companies can map out their workflows within ERPNext, ensuring that every action and data input aligns perfectly with their business operations.
Customization empowers businesses to automate repetitive tasks, reduce manual data entry, and streamline complex processes, thus significantly increasing productivity and accuracy. ERPNext's customization capabilities make it a versatile solution for businesses across various industries, as it can be adapted to meet the specific demands of each sector.
3. A Step-by-Step Guide to Implementing ERPNext:
Implementing ERPNext is a well-defined process that can be achieved through cloud-based deployment on Frappe Cloud or self-hosted deployment. For cloud-based deployment, businesses can sign up for an account on Frappe Cloud, while the self-hosted version requires installation on the company's own server.
Once set up, businesses must configure ERPNext by adding relevant company details, defining user roles and permissions, and adjusting settings to align with their operational preferences. Next, data migration comes into play, where companies export data from existing systems in a compatible format (CSV, Excel) and import it into ERPNext.
4. Integrating External Systems with ERPNext:
ERPNext's capability to integrate with external systems and third-party applications is a game-changer for businesses. By enabling seamless data exchange, ERPNext ensures that your organization's information is up-to-date and synchronized across various platforms.
ERPNext offers REST APIs, making it easier for developers to create custom integrations with CRM systems, e-commerce platforms, payment gateways, and other essential applications. This integration empowers businesses to have a holistic view of their operations, fostering data-driven decision-making and improved collaboration with customers and partners.
5. Empowering Your Team with ERPNext:
Any successful implementation of ERPNext heavily relies on user adoption and team empowerment. Businesses should invest in comprehensive training for their employees to ensure they can effectively use ERPNext's features and functionalities.
Change management strategies can help employees embrace ERPNext, breaking through resistance to new processes. By demonstrating the time and effort saved, employees can quickly see the benefits of the software and how it contributes to their daily tasks.
6. Realizing Cost and Time Savings:
ERPNext's optimized workflows and streamlined processes lead to significant cost and time savings for businesses. Automation of manual tasks reduces human errors and accelerates data processing, saving valuable time for employees.
Furthermore, ERPNext provides real-time data and insights, facilitating quick and informed decision-making. These data-driven decisions allow businesses to seize opportunities, address challenges promptly, and optimize their strategies, ultimately leading to increased profitability and sustainable growth.
7. Leveraging ERPNext's Reporting and Analytics:
ERPNext's reporting and analytics tools provide businesses with a deeper understanding of their performance. Detailed reports and data visualizations offer insights into sales, finances, inventory, and other critical metrics.
By leveraging these analytics, businesses can identify trends, track key performance indicators (KPIs), and forecast future performance. This data-driven approach allows businesses to adapt quickly to changing market conditions and make strategic decisions based on real-time information.
8. Security and Support:
Security is paramount when integrating critical business data into a central system. ERPNext offers robust security measures, including access controls, data encryption, and regular updates to protect against potential vulnerabilities.
Additionally, ERPNext has a thriving community of users and developers, offering support through forums, documentation, and professional services. This support network ensures that businesses can always find assistance and answers to their questions.
Conclusion:
ERPNext is a game-changing solution for businesses seeking seamless business integrations and improved efficiency. Its customizability, integration capabilities, and comprehensive feature set make it a versatile choice for companies across various industries and sizes. By embracing ERPNext, businesses can streamline their operations, optimize decision-making, and unlock their full potential for sustainable growth and success in today's competitive market.If you have any questions or concerns, please contact Airo Global Software through the email given below.
E-mail id: [email protected]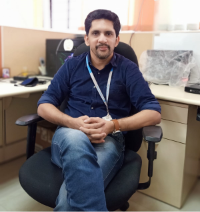 Author - Johnson Augustine
Chief Technical Director and Programmer
Founder: Airo Global Software Inc
LinkedIn Profile: www.linkedin.com/in/johnsontaugustine/