Introduction:
In today's fast-paced world, where time is of the essence, finding efficient ways to book bus tickets is crucial. With our innovative bus ticket booking app, we bring a seamless and convenient experience to travelers, simplifying the entire journey from start to finish. Discover the unique features and benefits of our app that make it the ultimate choice for all your travel needs.
One-Stop Booking Solution:
Gone are the days of standing in long queues or making multiple calls to book bus tickets. Our app serves as a one-stop solution, offering a comprehensive platform to search, compare, and book tickets for various bus routes. With just a few taps on your smartphone, you can secure your seat and embark on your journey hassle-free.
Real-Time Updates:
Stay up-to-date with the latest bus schedules, delays, and cancellations through real-time updates provided by our app. You'll receive instant notifications, ensuring you never miss any important information about your trip. Our commitment to keeping you informed empowers you to plan your travel efficiently and make necessary adjustments on the go.
User-Friendly Interface:
We understand the importance of a user-friendly interface that caters to all types of users. Our app is designed with simplicity in mind, providing an intuitive and easy-to-navigate platform. Whether you're a tech-savvy individual or new to mobile apps, our user-friendly interface ensures a seamless experience for everyone.
Secure and Convenient Payment Options:
Worried about online transactions? Our app prioritizes security and offers a variety of secure payment options. From credit cards to digital wallets, you can choose the method that suits you best. Say goodbye to the hassle of carrying cash or worrying about the safety of your financial information. With our app, payment is convenient and worry-free.
Exclusive Discounts and Offers:
Who doesn't love saving money? Our bus ticket booking app comes with exclusive discounts and offers, making your travel more affordable. Take advantage of special promotions, loyalty programs, and seasonal discounts to enjoy significant savings on your bus tickets. Traveling on a budget has never been easier or more rewarding.
Conclusion:
With our bus ticket booking app, we revolutionize the way you travel. Say goodbye to traditional methods and embrace the convenience, reliability, and efficiency of our platform. Download our app today and experience a new level of comfort and ease as you embark on your next bus journey. Seamlessly book your tickets, stay informed, and enjoy exclusive benefits with our innovative app. Your travel experience will never be the same again! If you have any questions or concerns, please contact Airo Global Software through the email given below.
E-mail id: [email protected]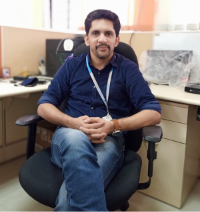 Author - Johnson Augustine
Chief Technical Director and Programmer
Founder: Airo Global Software Inc
LinkedIn Profile: www.linkedin.com/in/johnsontaugustine/