Are you a creative designer or an aspiring e-commerce entrepreneur? Do you have a stunning design that's ready to make its online debut? You're in the right place! In this comprehensive guide, we'll unveil the secrets to seamlessly converting your design into a Shopify masterpiece.
Why Convert Your Design to Shopify?
Before we dive into the nitty-gritty details, let's explore why transforming your design into a Shopify store is a game-changer:
1. E-Commerce Powerhouse:
Shopify is a leading e-commerce platform known for its user-friendliness and robust features. It empowers businesses of all sizes to sell products online efficiently.
2. Unique Branding:
Converting your design ensures your online store reflects your unique brand identity. You have full creative control.
3. Enhanced User Experience:
A well-converted design translates into a user-friendly website, enhancing the shopping experience for your customers.
4. Scalability:
Shopify grows with your business. Whether you're just starting or are a seasoned entrepreneur, Shopify can accommodate your needs.
Now, let's embark on your design-to-Shopify journey, step by step:
1. Design Analysis: Understanding the Blueprint
The first step is to meticulously analyze your design files. Pay attention to the layout, color scheme, typography, and interactive elements. This analysis will serve as the blueprint for your Shopify store.
2. Setting Up Shopify: Your Digital Canvas
If you haven't already, sign up for a Shopify account. This is where your design will come to life. Customize your store settings, including your store's name, currency, payment gateways, and shipping options.
3. Theme Selection: Choosing Your Canvas
Select a Shopify theme that closely aligns with your design's aesthetics and layout. The Shopify Theme Store offers a variety of free and premium themes to choose from. Pick one that's the closest match to your design.
4. Theme Customization: Adding Your Personal Touch
Use Shopify's theme customization tools to tweak your theme. Adjust colors, fonts, and layouts to mirror your design. For more intricate changes, consider working with a Shopify developer or utilizing custom CSS.
5. HTML/CSS Conversion: Turning Design into Code
This step involves translating your visual design elements into HTML and CSS code. Ensure that your design is responsive, adapting gracefully to various devices and screen sizes.
6. Interactive Elements: Making It Engaging
Integrate interactive elements, such as buttons, sliders, and animations, to engage your visitors. Shopify's Liquid templating language helps incorporate dynamic content like product listings.
7. Product Integration: Stocking the Shelves
Add your products to the Shopify admin interface. Create compelling product listings with high-quality images, detailed descriptions, prices, and variants.
8. Collection Pages: Organizing Your Store
Set up collection pages to categorize your products effectively. Your design might include specific collections or categories to organize your offerings.
9. Navigation Setup: Guiding Your Shoppers
Create menus and navigation bars to make it easy for customers to explore your store. Smooth navigation enhances the user experience.
10. Checkout Configuration: The Final Transaction
Configure the checkout process to align with your design. Define shipping options, payment gateways, and order confirmation pages to ensure a seamless transaction.
11. Testing: Ironing Out the Kinks
Thoroughly test your website across various devices and browsers. Look for layout issues, broken links, or usability problems. Fix any issues before launch.
12. Launch: Unveil Your Masterpiece
Once everything checks out, it's time to launch your Shopify store! Announce it to the world and start attracting customers.
Congratulations! You've successfully converted your design into a fully functional Shopify store. Your online presence is now poised to captivate your audience and drive sales.
In conclusion
converting your design to Shopify is a transformative process that allows you to create a visually stunning and user-friendly online store. With the right approach and attention to detail, you can turn your design dreams into e-commerce reality and establish a thriving online business. So, why wait? Start your design-to-Shopify journey today and watch your online store flourish.If you have any questions or concerns, please contact Airo Global Software through the email given below.
E-mail id: [email protected]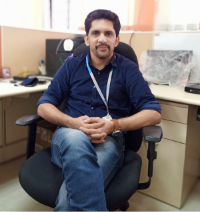 Author - Johnson Augustine
Chief Technical Director and Programmer
Founder: Airo Global Software Inc
LinkedIn Profile: www.linkedin.com/in/johnsontaugustine/